Ok, I used to own 3 rats before my move made me find them another home. Most people feel scared or grossed out by the thought. This is because they are not educated about them or at least the pet kind.
But none the less I had three "Varcity" "Piper" "Zoey"..alll girls all beautiful.
Varcity was a grey cotton ball, Piper looked like a sewer rat and Zoey was a Dalmatian (yes, just like the dog)...
None the less...story is told...My little dog found a friend yesterday. A rat. She seemed to be just sitting there and I wasn't sure if it was someone's pet or a wild one from who knows where. BUT it just sat there as my dog sniffed it and walked around exploring it.
I was confused by her motions because most rats would run. So, I got on the garden gloves and proceeded to check her out. She seemed a bit off balance and closer looking showed she must have gotten into a fight with a cat or something. She was missing her left eye.
I had my daughter grab some food from the house to see if she would eat it and it seemed as if she would for a moment then again she got wobbly and couldn't sit straight. I knew in my mind she was really hurt but wanted to figure a way to help...
We then made her a cup of water out of some foil and I slid it to her. She dove rather fast into the little tiny cup and drank so fast i thought then there might be help for her after all.
Long story short - I couldn't bring her in the house not knowing if she was a wild one or not. But I didn't want to just leave her to fend either all though it is just nature's course or rules that animals have to live by.
*sighs* SO, I got into a box and set her close to some bushes made the box lay on its side so that she could go if she so chose to. I got a cap and filled it with water and left food in the box for her too.
Thought all was going well, I went to check on her about two hours later and she had walked from the box under the bush i put her near.
Than I left her alone as she would do as nature intended.
The next morning, I went to check on her before work, *Sighs* - She was back in the box with her little head hanging over the water cup (not in it) .... But she was dead. I moved the cup and she was already stiff
had already set in....
So, sad...I sat there looking at her wondering if I could have done more.
I have seen other animals live in the wild with the loss of an eye before but I assume maybe what ever got her eye had punctured it to far in and maybe hit her brain and that's why she was not stable in holding her own self upright.
Well, bless her little tiny soul. I feel bad ...I closed the box around her.
Maybe I will own some again when i get ready to move here at the end of the year...They are such neat creatures...a lot cleaner than you think if you have never been around them. They are also very smart.
"Varcity" she learned to follow me just by me tapping my fingers...cute thing...
Oh well this is what the ratty girl looked like that decided to leave this world....
I believe I will name her "Lady" because to me she fit the name...and she was trying to live...
Rest In Peace "Lady".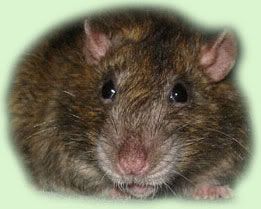 Of course this isn't her "actual" picutre as se

left this earth with only one eye...but this is the closest

I found to what she looked like.